FREE GUIDE
Simplify Your Staff and Parent Experience with LineLeader

Streamline Your Business with the Best All-In-One Solution for Childcare Providers
Ready to make your parents' lives a whole lot easier?
Because let's face it, today's families are all about that easy-to-understand, personable experience. They want answers to their questions in real-time, self-service options for meetings and payments, and more – all at their fingertips!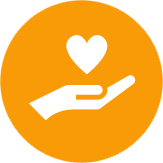 Today's parents have greater expectations than ever before.
Whether they're browsing for a new car online, ordering groceries via a mobile app, or communicating with their childcare provider, Millennial and Gen Z guardians love that tech-savvy life. And if your center isn't keeping up with the times, they'll be out the door before you can say "nap time."
Fear not, thousands of childcare and early education centers have already jumped on board the tech train and are delivering a unified parent experience.
And you don't want to be the only one left behind, do you?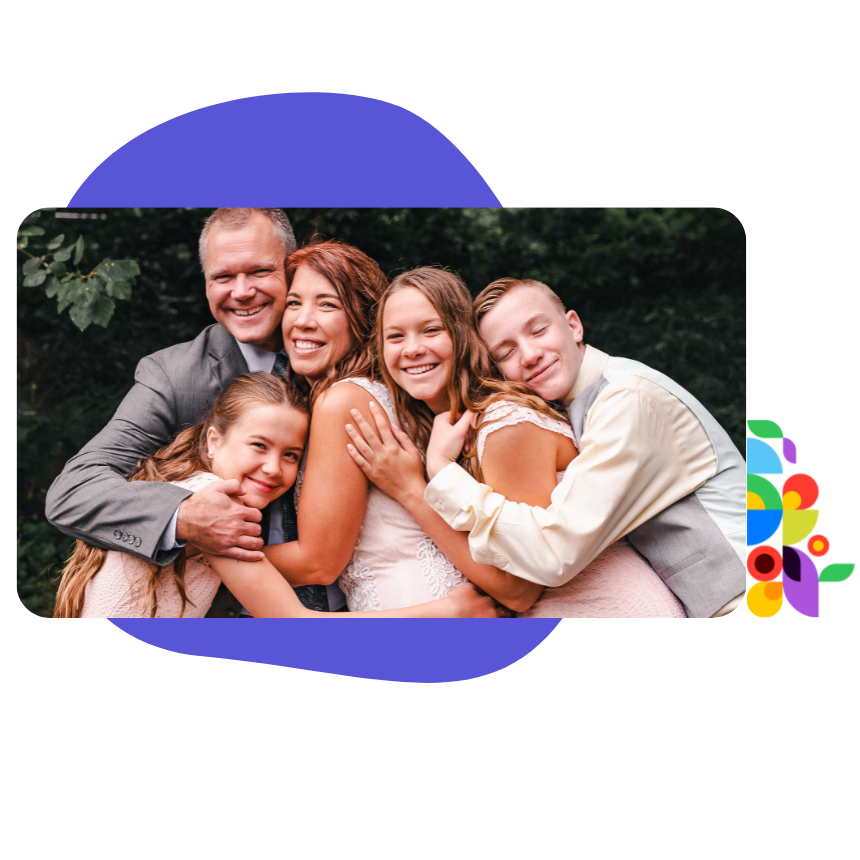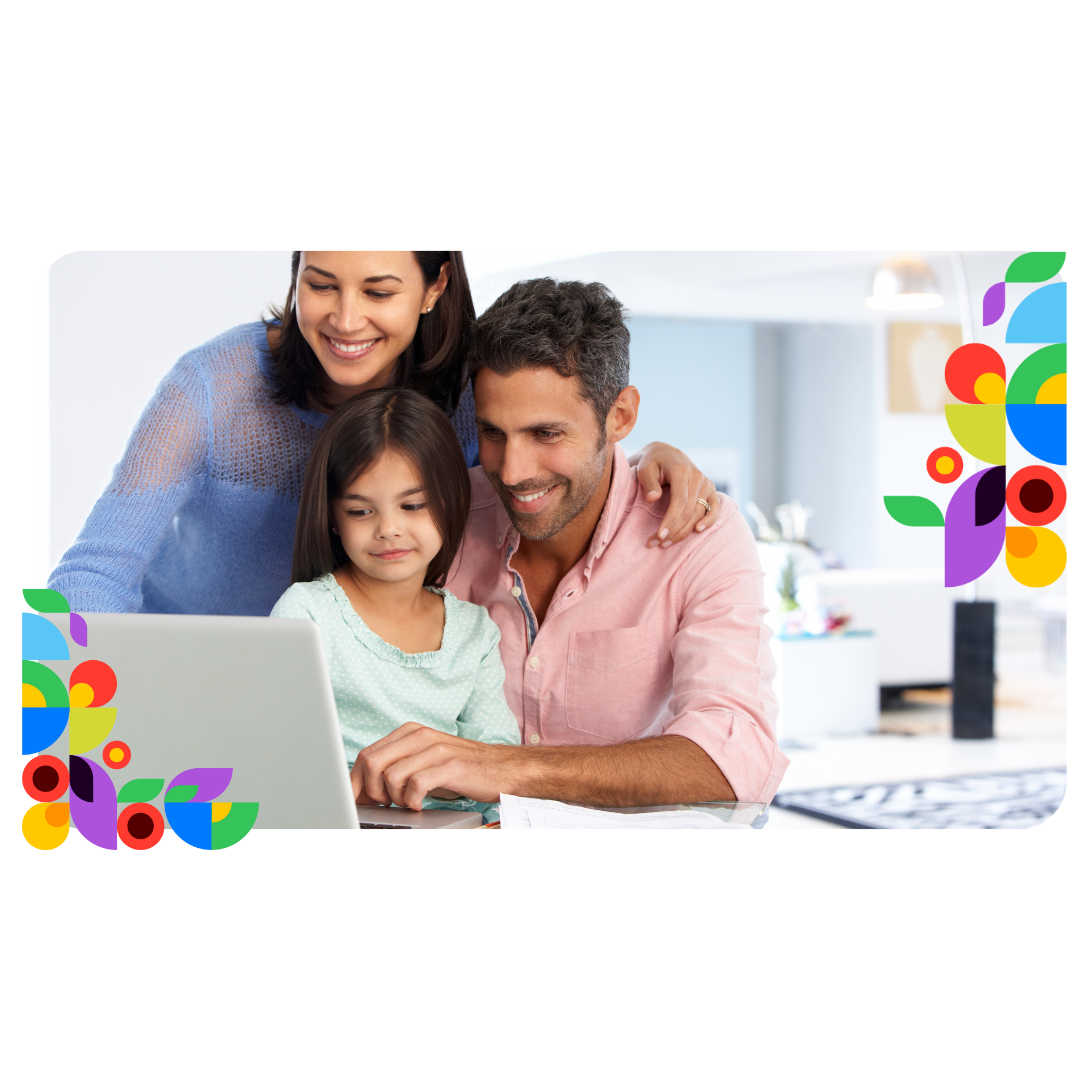 The Childcare Industry: On the Cusp of Digital Transformation
The childcare industry is booming and you don't want to be left in the dust.
In fact, a whopping 69% of education professionals have already seen the light and have harnessed the power of technology to save valuable time while completing their everyday tasks. And who doesn't love saving time?
More time for playtime, am I right?
But not only can technology save you time, but it can also save you some serious cash during staffing shortages. That's right, with the right software, you can have a virtual assistant at your fingertips, helping you and your team stay organized, productive, and stress-free.
So, what are you waiting for?
Keep up with your competitors in childcare and embrace the digital revolution! Your wallet (and your sanity) will thank you.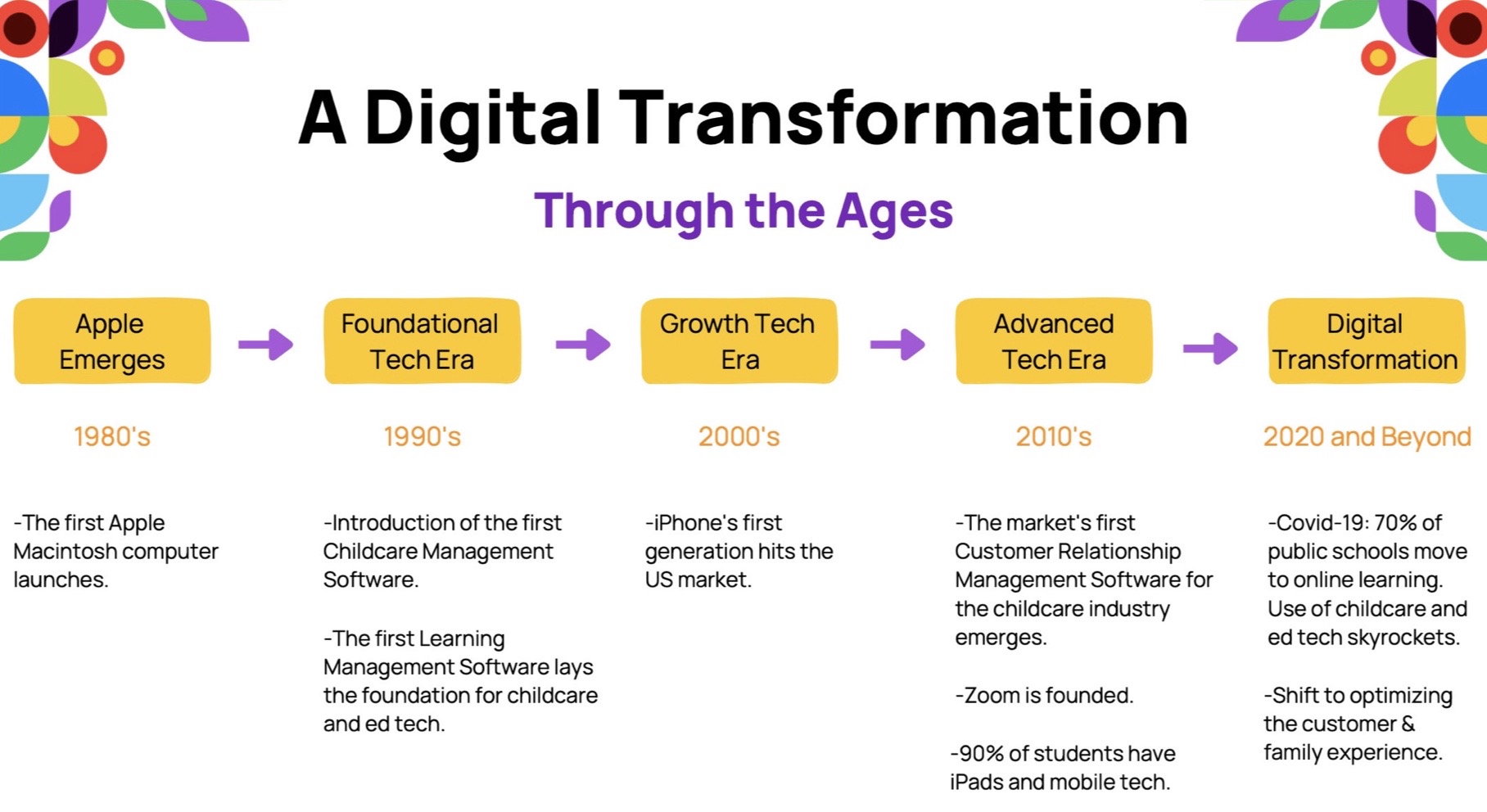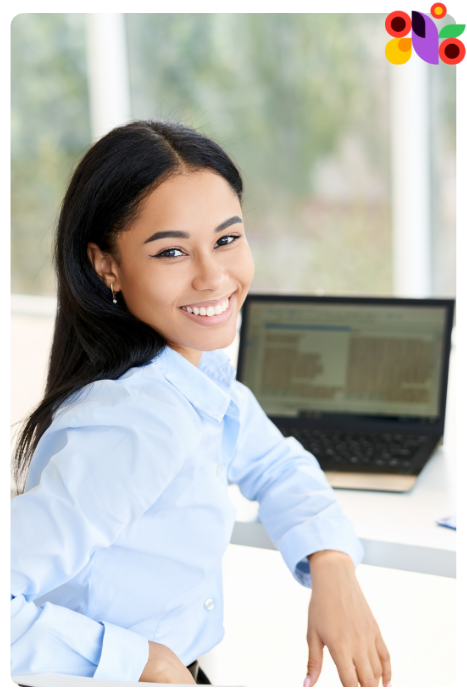 How to Choose the Right Center Management System
The last thing you need is more stress in your life. But unfortunately, with so many options for childcare software out there, it's easy to get overwhelmed and feel like you're drowning in a sea of choices.
That's why we're here to remind you of the Paradox of Choice – too many choices can lead to stress and bad decision-making.
So, take a deep breath and focus on what's important. When you're sifting through all the noise, look for a platform that will make your life easier by eliminating the need to switch back and forth between multiple systems and tabs.
After all, who has time for that? And let's be real, trying to manage and train staff on more than six disjointed products is just plain crazy.
But don't fall for the 'all in one' Center Management Systems (CMS) trap either. Many of these platforms lack the tools you need to manage the full cycle of care for your families, such as lead management and marketing automation functionality. You deserve better than that!
Instead, prioritize unified platforms, also known as Customer Experience Platforms (CXP). Let's make everyone's lives a little less frustrating and a lot more seamless. Trust us, your families and staff will thank you for it.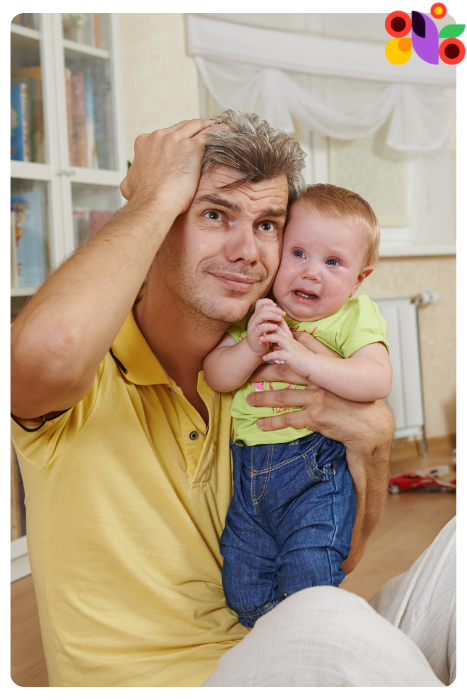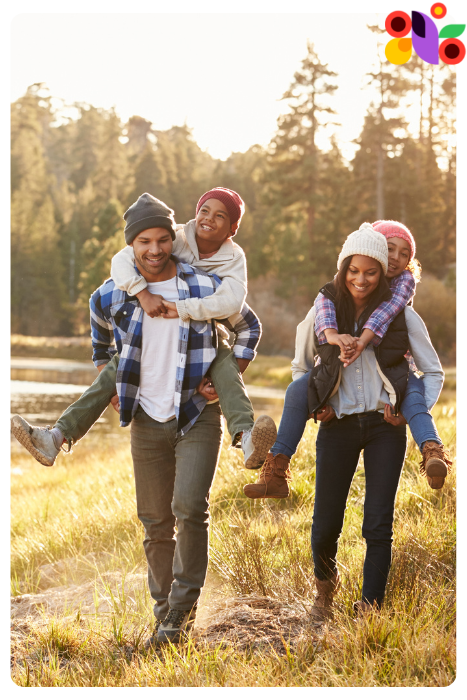 Who's the target demographic for childcare (and what do they want)?
Believe it or not - Millennials and Gen Z are your primary parent (and occasionally staff) demographics.
We know what you're thinking...time really flies! Aren't members of Gen Z born between 1997 and 2012?
Yep, and the oldest of these Gen Z members are in their mid-20's, settling down, having babies, and getting jobs (sometimes at your center).
Don't miss out on this key demographic. Millennials account for 80% of today's parents to children under 12, while Gen Z will make up the majority of first-time parents in the US before the year 2025.
Whether they're evaluating your childcare center from a parent or staff perspective, Millennials and Gen Z want personalized, digital experiences – from communicating with teachers to paying tuition bills to viewing their weekly schedules.
To keep up with these expectations – you need to simplify and streamline your center operations. A Childcare Experience Platform empowers you to effortlessly guide families from their starting point (first inquiry) to their ending point (re-enrolling next year) while also providing staff with the tools they need to outperform your competition and be an asset within your organization.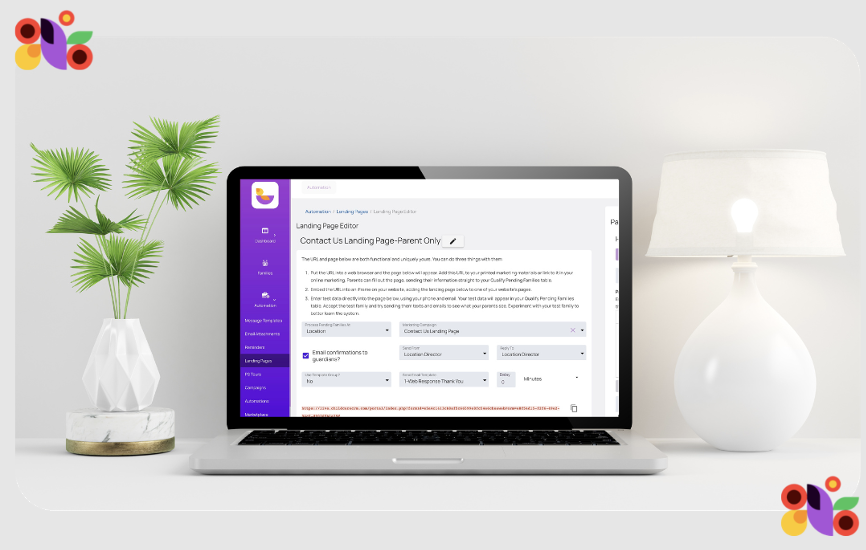 What is a childcare experience platform?
A Childcare Experience Platform is basically your new best friend in the world of childcare management. The CXP combines all the best features of customer relationship management (CRM) software, a family engagement app, and childcare management software (CMS) into one neat and tidy solution.
And let's be real, who doesn't love a one-stop shop?
LineLeader by ChildcareCRM is the first and only CXP in the childcare industry, and it's a game-changer. With everything you need to make enrollment easy for families and staff, you'll wonder how you ever managed without it.
Say goodbye to the days of juggling multiple systems and tabs. With a unified Customer Experience Platform, your staff will have more time in their day to focus on the things that really matter. And your families? They'll receive the excellent enrollment experience they deserve.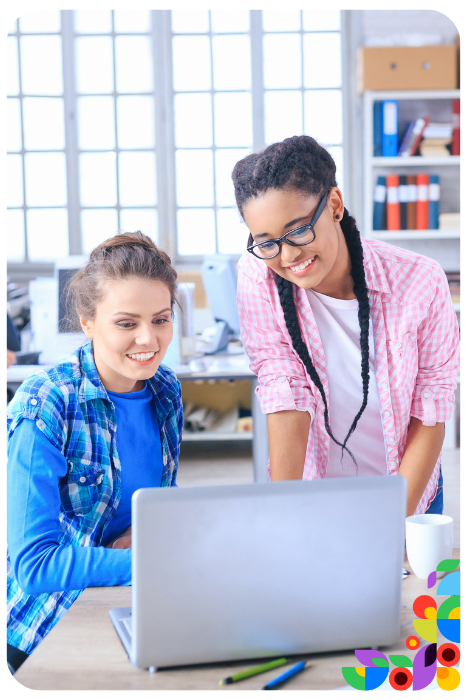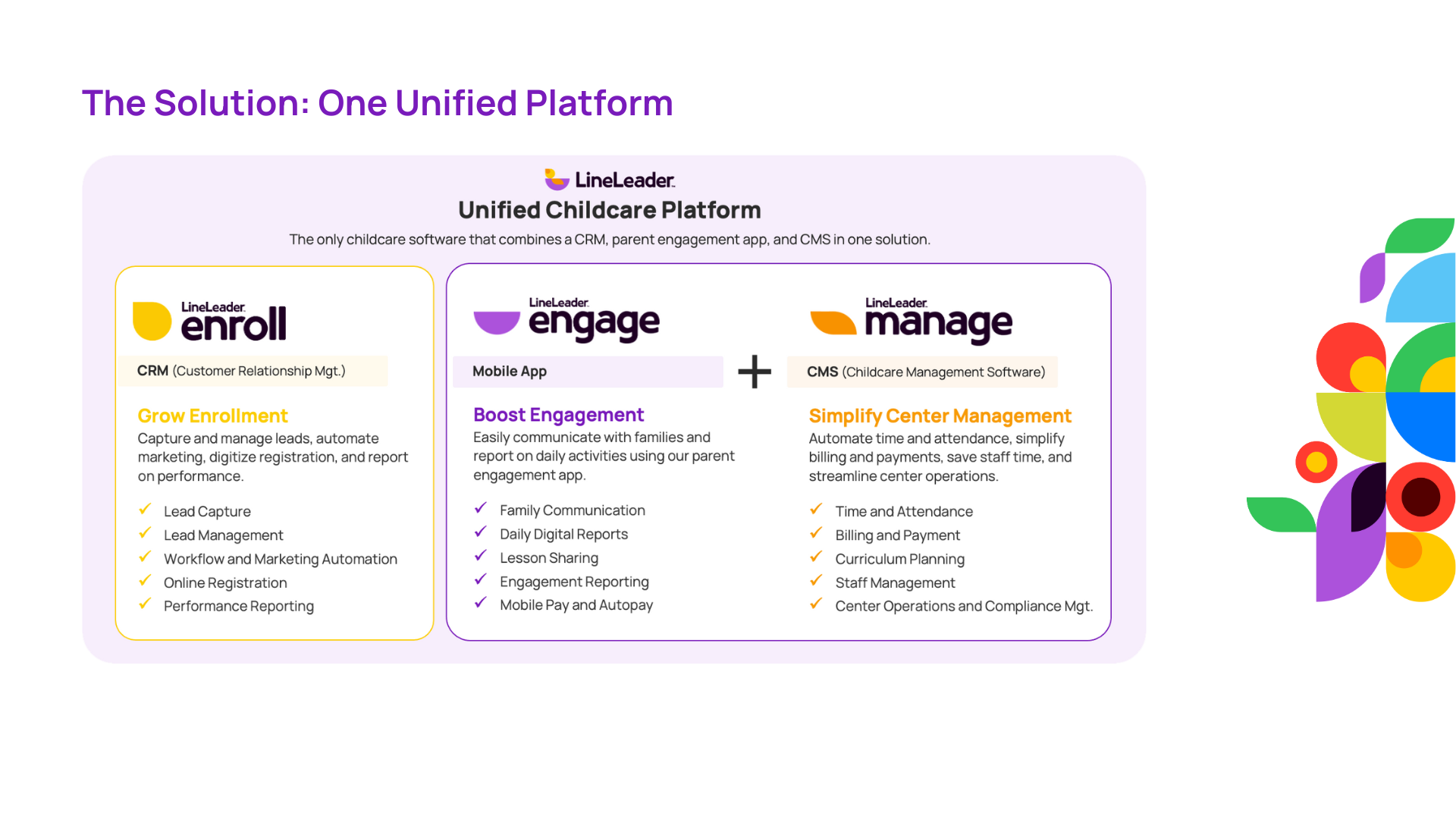 How is a childcare experience platform different from a center management system?
Childcare Experience Platforms offer everything a Center Management System does, and more, in one, easy-to-use platform that reduces your monthly costs and allows you to ditch multiple invoices, all the open windows on your desktop, and the different customer support emails you have to remember.
On the flip side, a Center Management System (although critical for your business) is limited in the tools it provides – leaving you to search for and rely on other systems to fill in where it can't.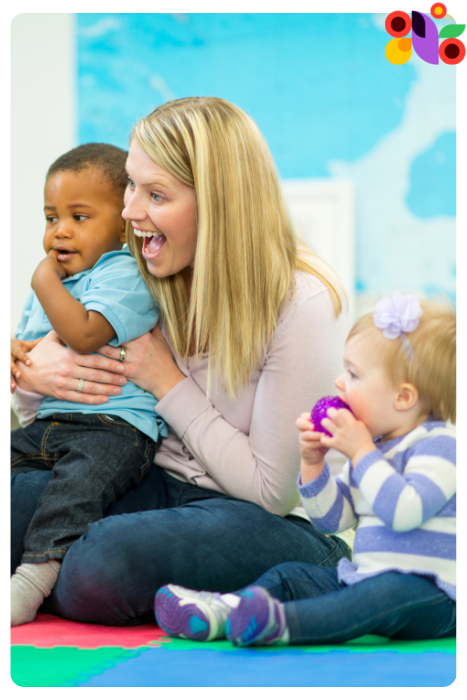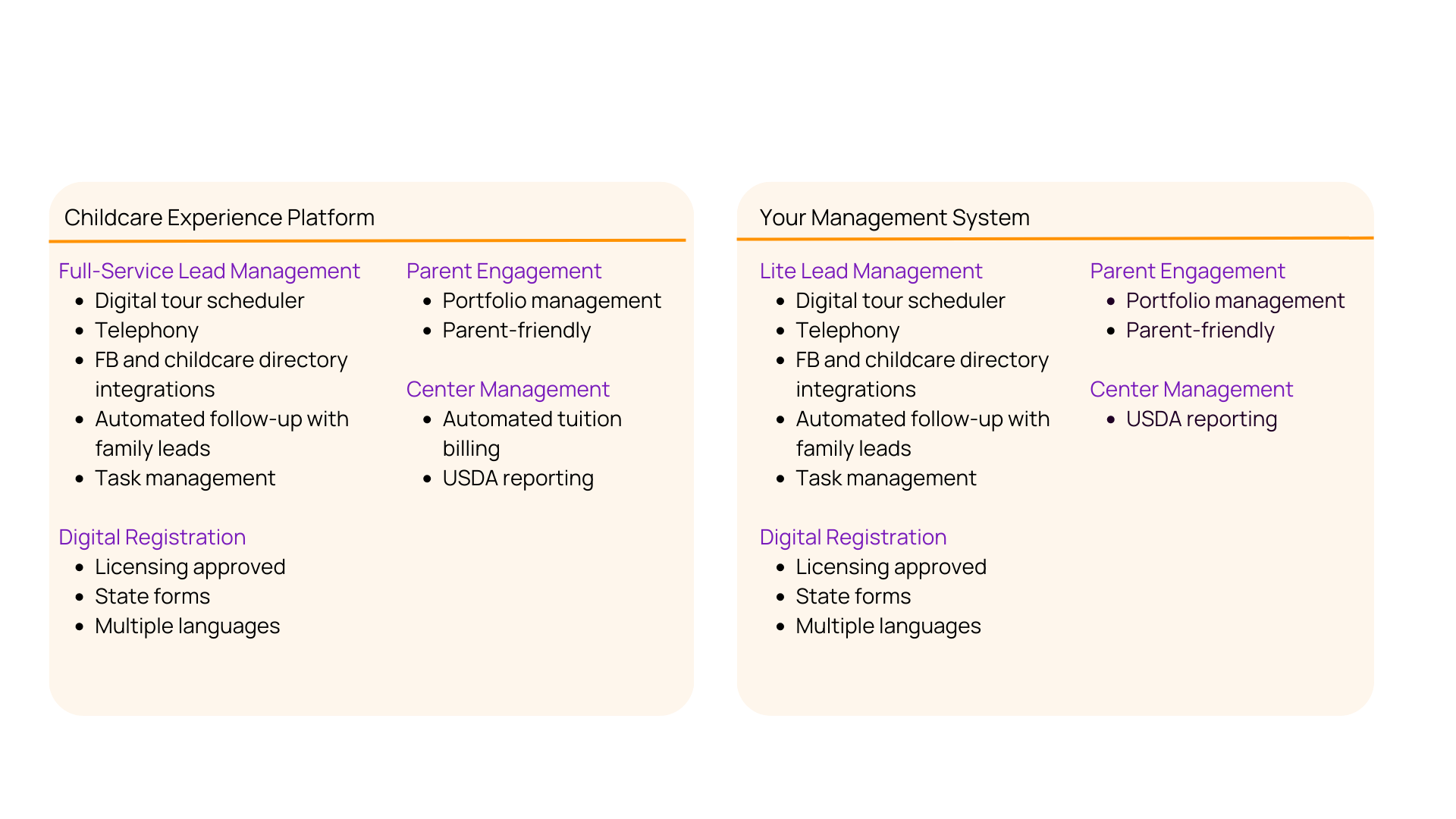 Don't be fooled by other systems that call themselves an 'all-in-one.'
Get freedom from manual, tedious administrative work with a true, unified Childcare Experience Platform so you can:
Ditch the multiple subscriptions.

Manage your entire business with one login.

See all your family, staff, and financial data in one place.

Utilize one dedicated customer success and support team.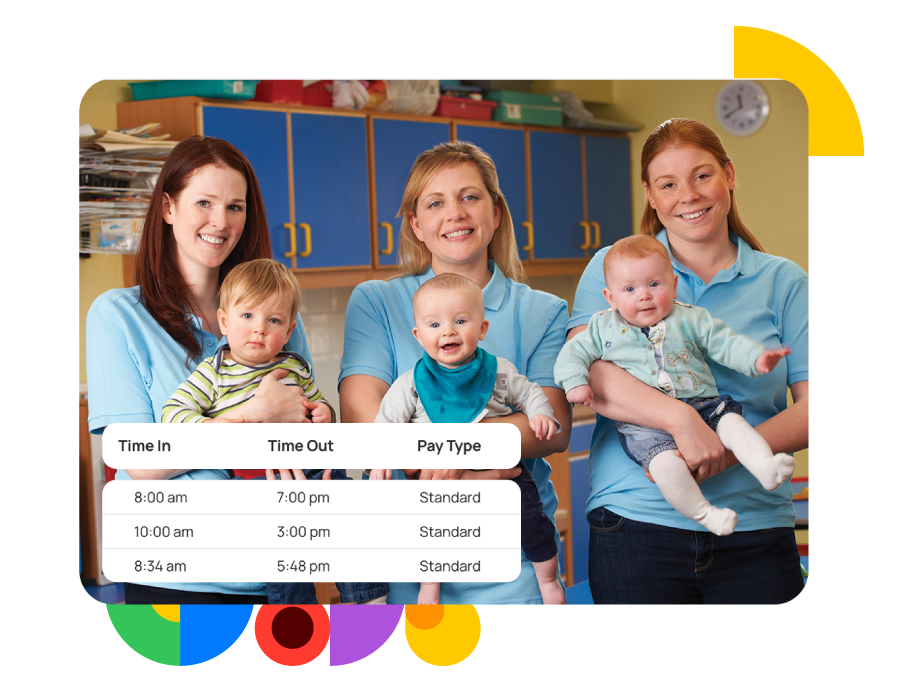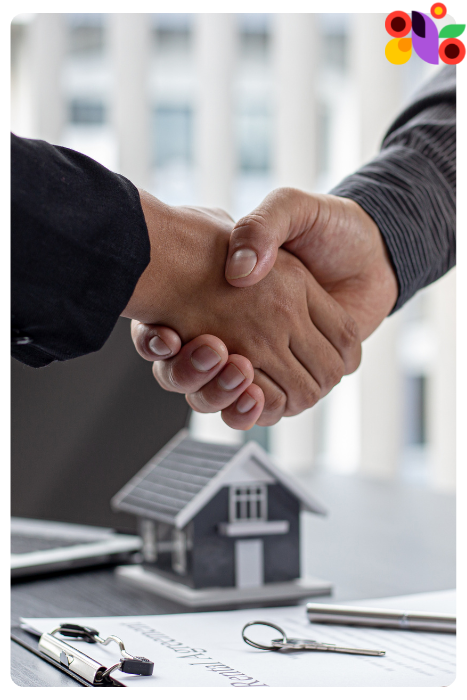 Additional Benefits You Can Expect from a Unified Platform
LineLeader's Childcare Experience Platform helps childcare businesses:
Enroll more families

. Grow enrollment by capturing and converting more leads, automating lead follow-up, tour scheduling, registration, and reporting. Get up to 3x more completed registrations with online forms versus paper forms.

Engage parents and guardians

. Save time by automating daily reports to share events with families in real-time. Automatically share developmental milestones and memorable moments with parents. Easily communicate with parents via our parent engagement app and portal.

Simplify center management.

Digitize check-in by replacing paper check-in sheets with digital check-in for students and staff. Bill and invoice online including recurring payments. Quickly report on attendance, payroll, and more to give parents the streamlined experience they prefer.
Key Platform Features You'll Come to Know and Love
1) Easily enroll families with full-service lead management & marketing automation.
Telephony Integration
Are you tired of missing important calls and losing potential leads? Well, we've got just the thing to keep you connected and organized.
Capture leads from voicemail and record outbound calls with a Telephony integration. All calls from your dedicated number are recorded and saved to an existing family record. Or, if one doesn't exist, a pending lead is created, and the recording is attached. Plus, get a dedicated phone number for each center. Easily send and receive text messages.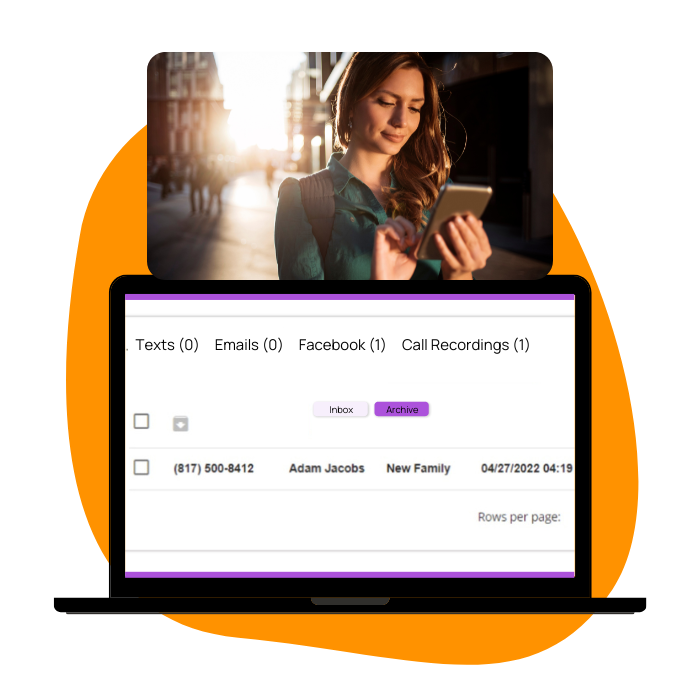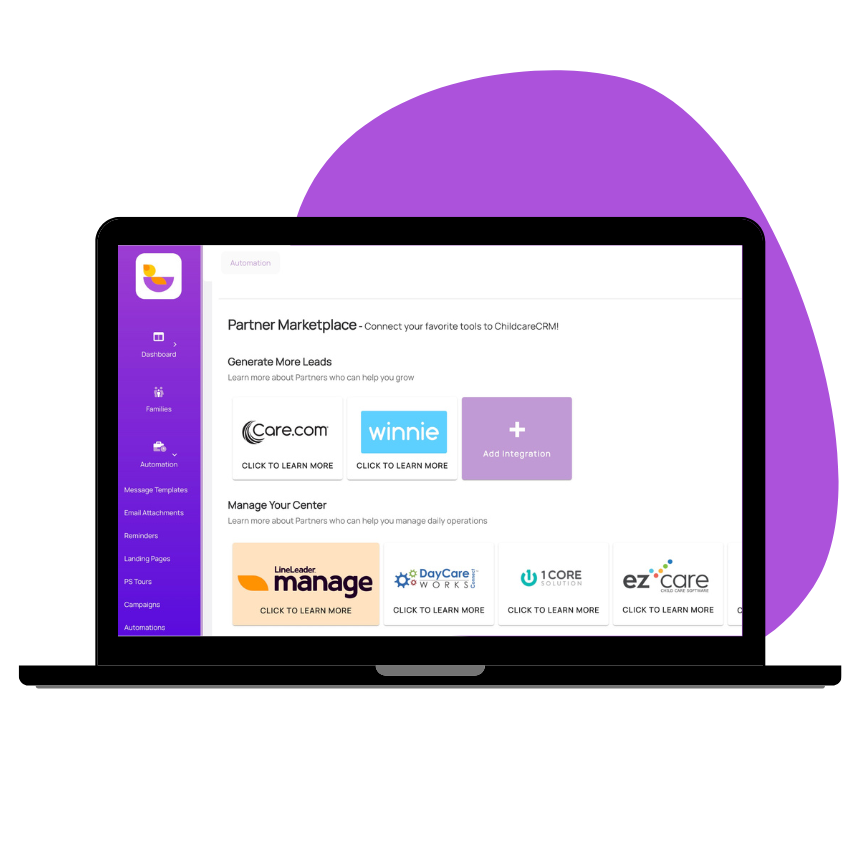 Childcare Listing Directory Integration
Utilize lead generation integrations to increase the number of prospective families inquiring for care at your centers. Then, capture and follow up with those leads automatically in your Care Experience Platform.
Task Management
Master your to-do list and save time with task management. Maintain tasks for each family at every location and assign tasks to your staff to eliminate repetitive work.
Franchise Management
By standardizing enrollment across your franchise locations, you can create a consistent and reliable experience for families and staff. This not only helps you maintain your brand image, but it can also help increase revenue by improving the overall enrollment experience.
With the right tools, like a unified enrollment platform, you can easily manage enrollment from one location, ensuring that all your centers are following the same process.
Digital Tour Scheduler
Give parents the option to select a tour time at their own convenience - rather than filling out a form or calling the center to request a tour. Plus, all lead information is captured in one place – your Childcare Experience Platform. This ensures staff is well prepared.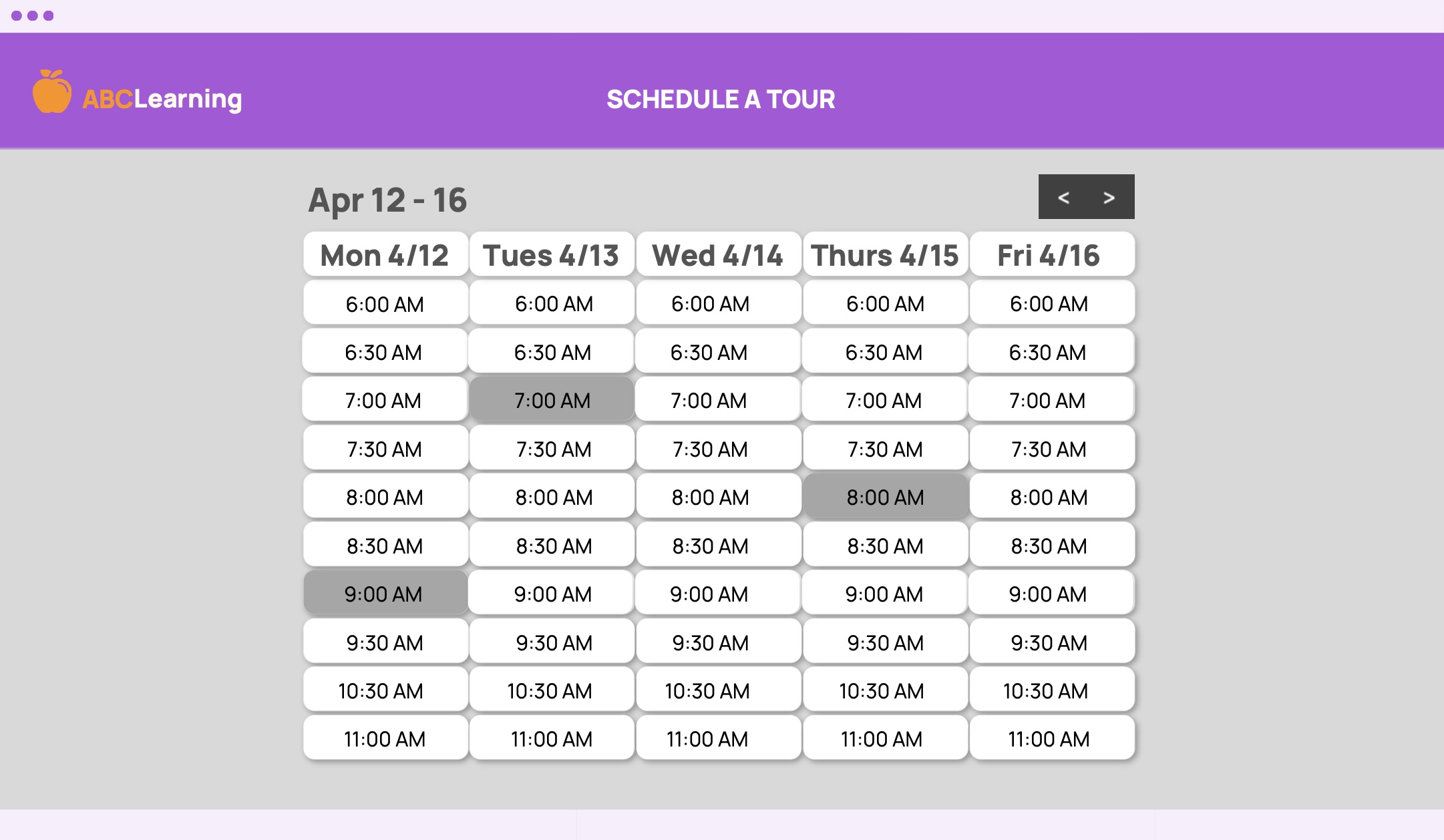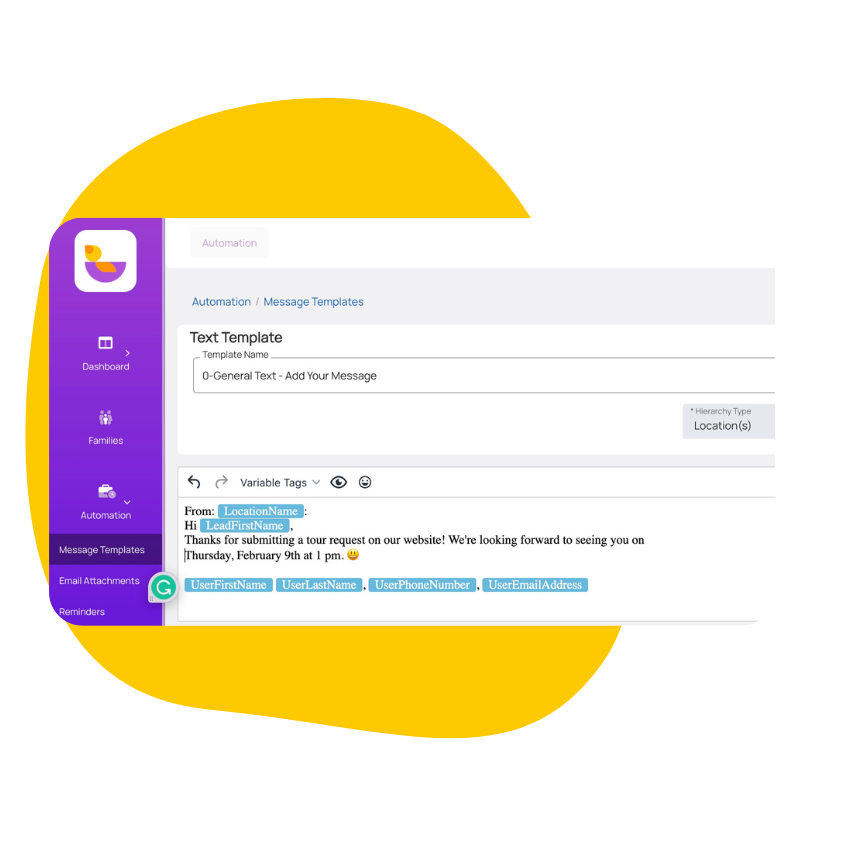 Text Marketing
Capture more leads with automated text marketing. Follow-up faster, using the parent's preferred method of communication. Create and store professional, personalized text templates across center locations.
Plus, open rates for text messages are as high as 98%, and on average it only takes 90 seconds for someone to respond to a text. Get important messages out to families faster, with text marketing.
Marketing Automation
Automatically follow up with every lead across centers. Make sure opportunities don't fall through the cracks and automate normally manual tasks, such as email and text communications. Plus, design hands-free marketing campaigns for every stage in the prospective family's enrollment journey.
Real-Time Reporting
Manage performance at-a-glance with real-time reporting. View and monitor productivity, conversion success, marketing campaign performance, lead sources, and more by corporate, regional, and individual centers.
Digital Registration
We've made it super easy for families to register online with digital enrollment packets. Say goodbye to deciphering handwriting and chasing down missing information. Our platform ensures that all childcare forms are complete and comply with state regulations.
Plus, you can collect all the necessary information, from emergency contacts to medical details, in one place. And if you're worried about language barriers, don't worry - our enrollment forms are available in six different languages. It's time to streamline your enrollment process and save time!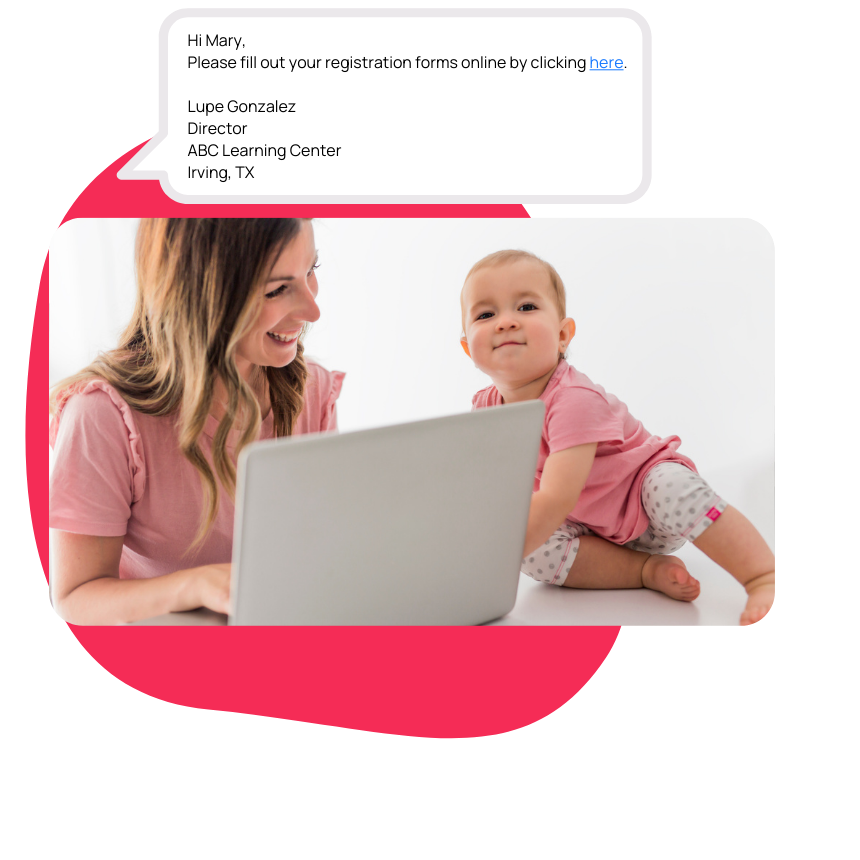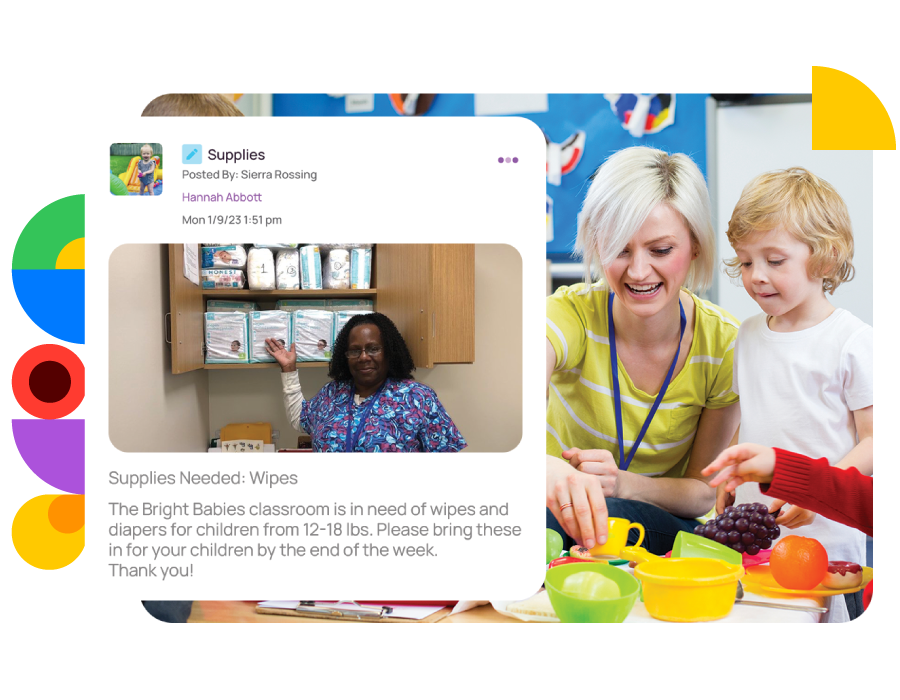 2) Share memorable moments to engage parents and guardians.
Parent Engagement App with Digital Moments
Today's parents crave information. Give them confidence about their care choices via a secure, personalized app that's easy to use. Share all the details they need, from billing info to the true value of play-based learning and everything in between.
Plus, the secure Message Center lets teachers and families share updates, announcements, or other information about the moments that matter most. Parents and caregivers can instantly connect, without having to worry about what happens to their data. Build loyalty for your brand.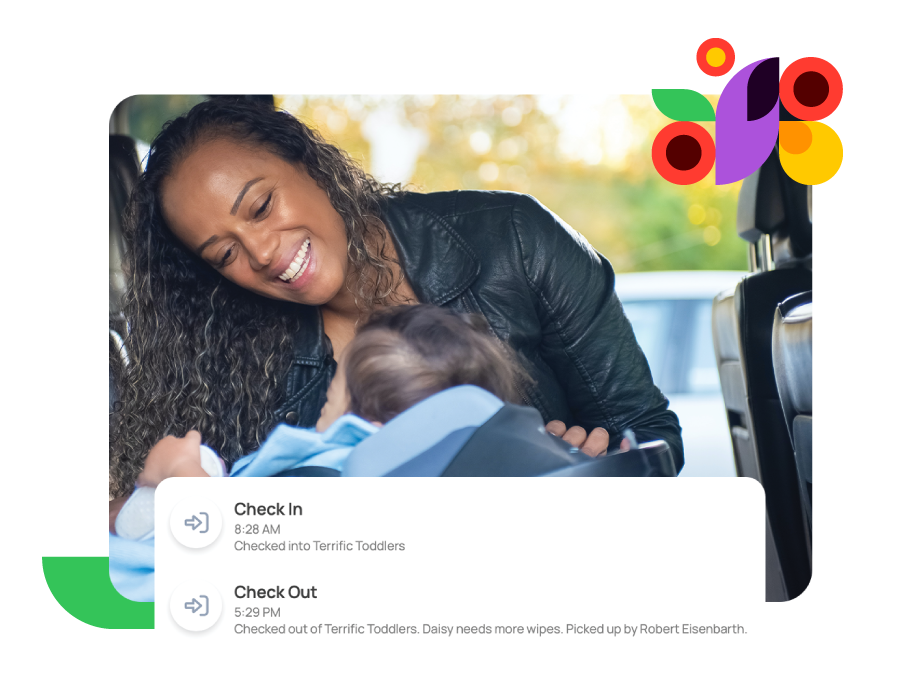 3) Manage your children and classrooms with confidence.
Contactless Check-In and Check-Out
Simplify your check-in and check-out process. Quickly record students as they arrive and go home. Save time and keep attendance information organized. In addition, maintain a safe environment where every child is accounted for.
Automated Tuition Billing and Payroll Tracking
Say goodbye to the hassle of manual tuition billing and payroll tracking! Easily automate these processes and free up valuable staff time. Send invoices to parents with just a few clicks and let them conveniently pay through our Parent Engagement App. No more chasing down payments or worrying about cash flow!
And the best part? LineLeader is fully compliant with USDA's reporting requirements, so you can rest assured that all financial information is safely and securely stored. Plus, managing payroll has never been easier with everything accessible from just one screen. Let us handle the nitty-gritty so you can focus on what really matters – providing exceptional care for your families!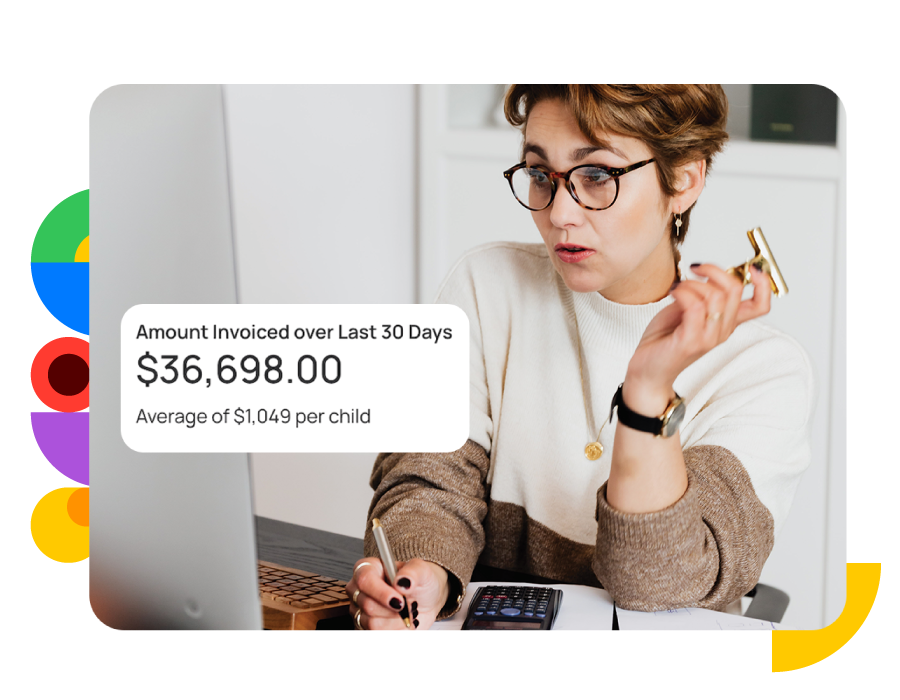 Portfolio Management
Eliminate sticky notes and manila folders. Document children's developmental progress in real-time with digital updates. Record milestones as they happen throughout the day. Provide evidence of curriculum mastery to highlight your program's quality.
Share holistic progress results during parent-teacher conferences by maintaining an individualized portfolio of every child. Effortlessly keep parents in the loop. Encourage parent-teacher collaboration to increase growth. Plus, access all portfolios and child observations in one place.
Curriculum Management
Get rid of inconsistent learning and deliver best-in-class education. Curriculum management lets staff and teachers access their ready-to-go lesson plans and activities. Teams collaborate to enhance curriculum – all in one place. Improve learning outcomes and your program's success.
Build a high-quality curriculum that not only meets but exceeds parent expectations. As the year goes on, share educational updates with families about their child's learning progress.
One-Click Reporting
Get a real-time view of center performance and success. Instantly check the pulse at your center. View key enrollment metrics. Holistically measure and manage staff performance, enhance oversight with data-driven insight, and monitor finances.
Further, easily report revenue. Project and forecast finances for each center. Forecast enrollment ratios, trends, and annual profit for the upcoming year. Use report data to deliver an outstanding family experience.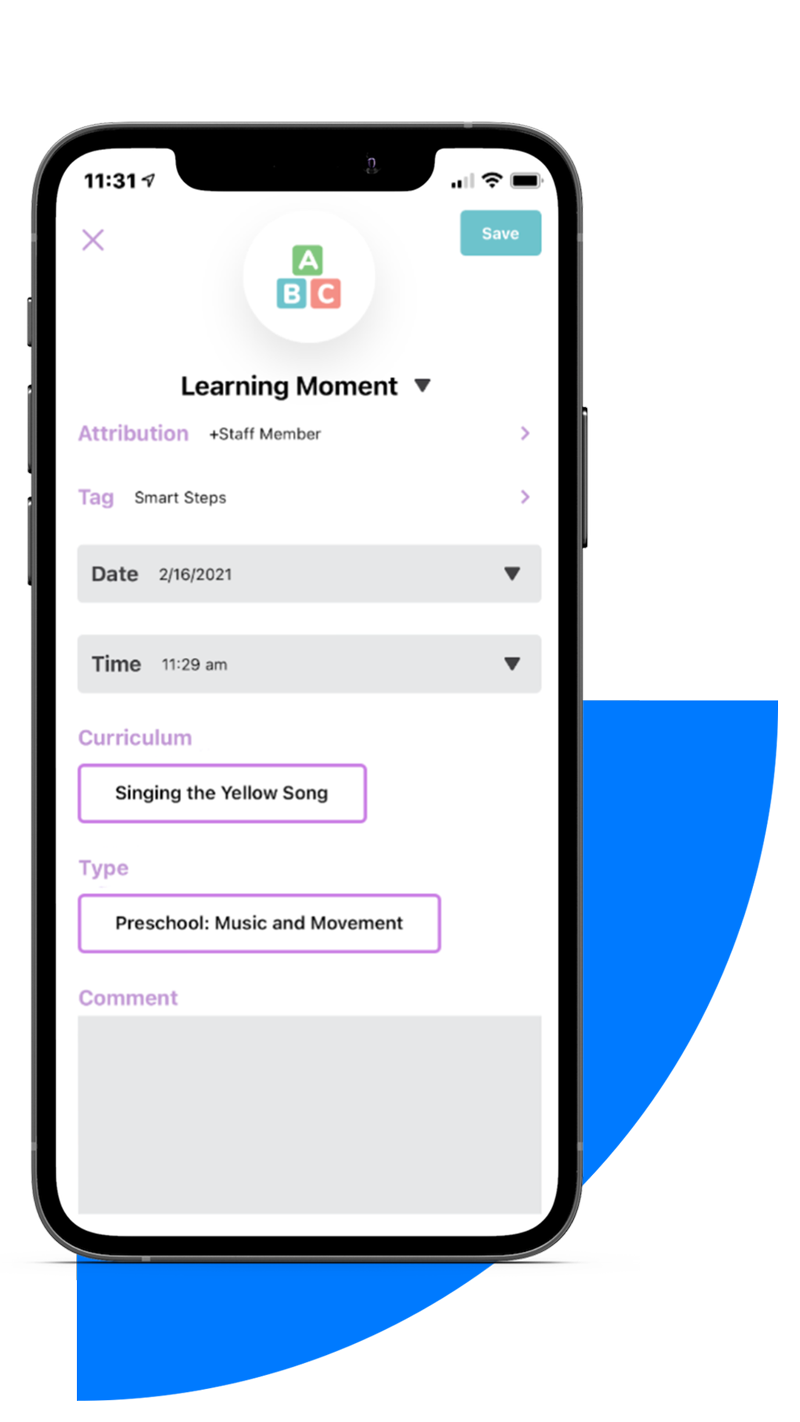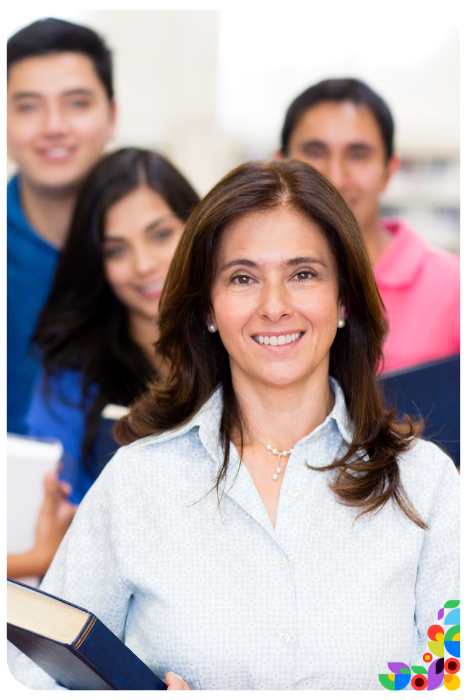 Who should choose your childcare experience platform?
Single Centers
The key decision-maker should be the owner or director of the center. The director will be using your Childcare Experience Platform daily to manage sales, marketing, and center management tasks.
Multiple Centers or Franchises
We recommend involving the marketing, enrollment/operations, or communications team, you know, the cool kids. They'll be able to use the platform to automate sales and marketing activities.
Now, if you're a franchise, it's a little different. You've got a powerful owner or decision-maker, but they still need to get buy-in from the corporate franchisor.
How to Get Started with LineLeader: One Unified Platform, One Cohesive Team
One platform, one team, one exceptional enrollment experience.
A Childcare Experience Platform is designed to provide you with an exceptional enrollment experience. With LineLeader, managing your childcare business has never been easier, thanks to our user-friendly technology that's simple to adopt and use.
Partnering with us means you'll have access to a team of childcare experts who will provide you with all the support you need to accomplish your goals and achieve success.
So why not join us today and discover the benefits of our all-in-one childcare platform? We look forward to helping you succeed!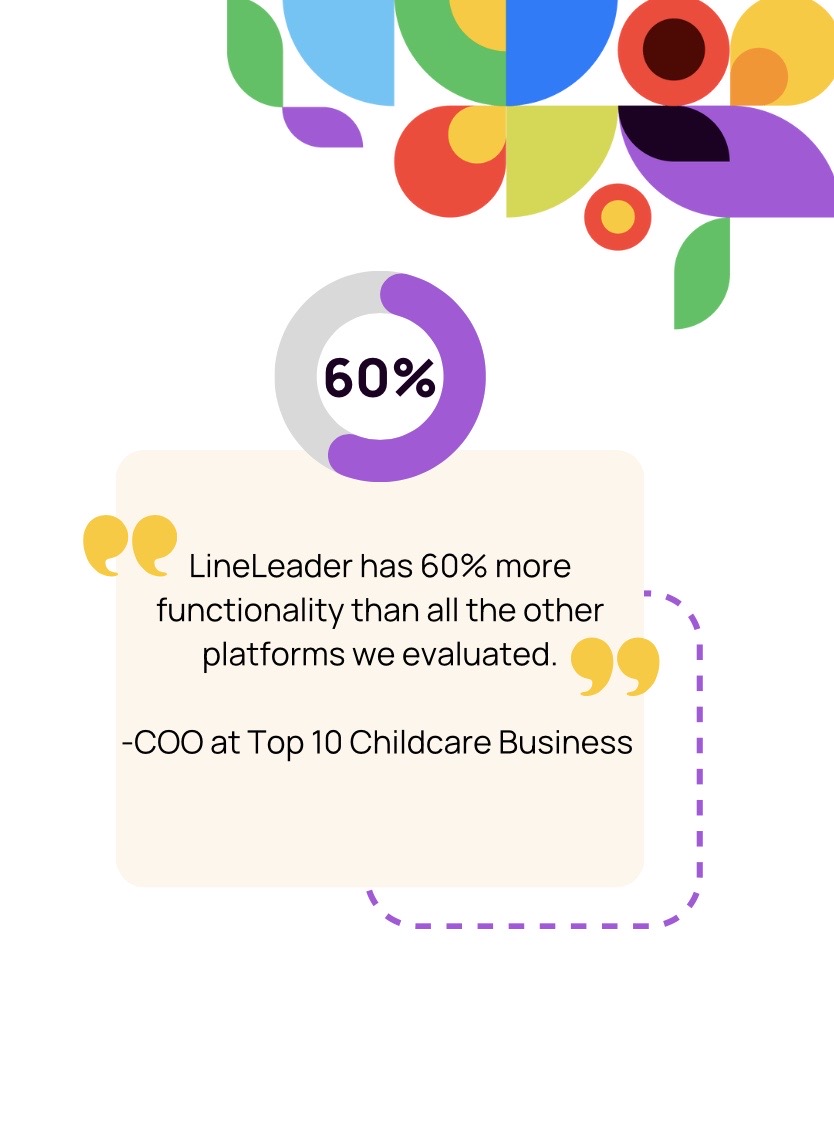 Schedule a demo with LineLeader experts to learn more about how you can run your business with one unified platform.
LineLeader Video Resources
Introducing LineLeader, the only unified childcare platform that delivers full-featured customer relationship management (CRM) software, family engagement app, and childcare management software (CMS)—together in one solution.
Check out our helpful video resources below! 👇