CHILDCARE MANAGEMENT SOFTWARE
Simplify childcare management with LineLeader Manage.
Leave manual processes behind and automate administrative work to save 10+ hours every week. Automatically track and report on attendance, simplify billing and payments, improve staff and classroom management, and streamline operations.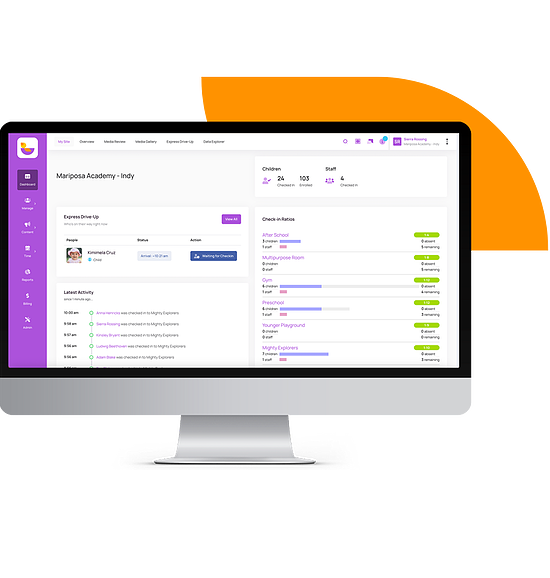 Better childcare management starts here.

Save Staff Time
Automate attendance tracking, billing and payments, record-keeping, and more.

Consolidate Tools
Move to one unified platform that has everything you need to run your business.

Scale Your Business
Simplify staff and classroom management, plus streamline operations.
Manage time and attendance.
Easily check students in and out with contactless check-in and monitor classroom ratios.
Contactless Check-In: Check students and staff in and out with the touch of a button.
Express Drive-Up: Make it easy for parents to let your staff know when they're on their way.
Pick-Up and Drop-Off Notes: Let families leave pick-up notes about their child.
Classroom Ratios: Automatically track classroom ratios and manage the number of students per educator.
Attendance Reporting: Easily track and report on attendance in real-time for both children and staff.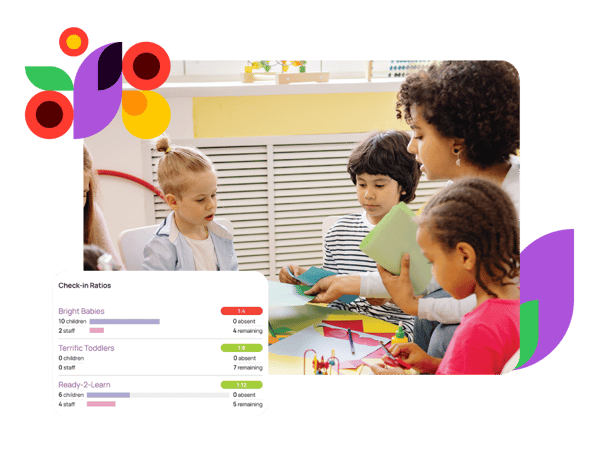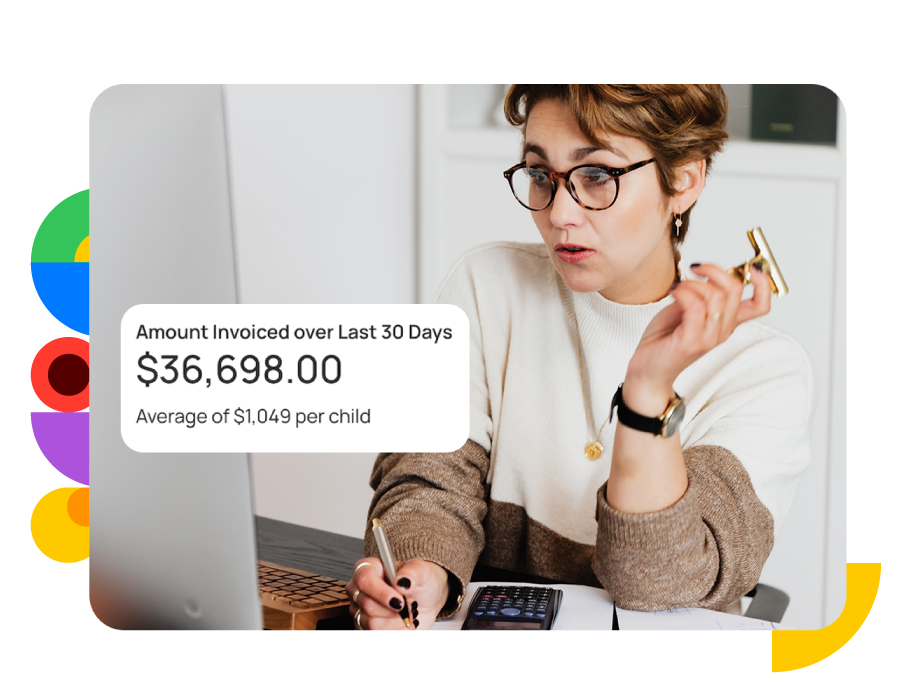 Simplify billing and payments.
Automate billing and payments and simplify subsidy reporting, USDA reporting, and capacity planning.
Tuition Collection: Schedule invoicing, bulk charge families at once, and automate payment reminders.
Subsidy Reporting: Monitor subsidies and grant the proper funds to families.
USDA Reporting: Automatically maintain USDA compliance and receive reimbursement for food costs.
Staff Payroll: Track staff hours and synch your payroll system with LineLeader to ensure staff are paid on time, every time.
Capacity Planning: Get a report that ties together children's schedules with classroom capacities to see which classrooms are making the most of their available capacity.
Easily manage your staff.
Schedule staff efficiently, monitor time logs, let staff manage their schedules, and more from our engagement app.
Digital Timekeeping: Simplify the way you track hours. Review timecards with digital staff check-in and check-out.
Document Management: Oversee staff documents and benefit information from one central location.
Staff Scheduling: Easily assess staff hours and manage staff schedules.
Staff Reminders: Send automatic reminders about tours, meetings, and more.
Staff Mobile App: Make it easy for staff to see their schedule, manage hours worked, and more—all from our mobile engagement app.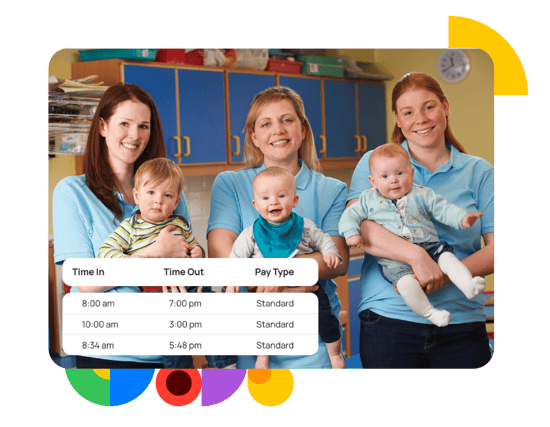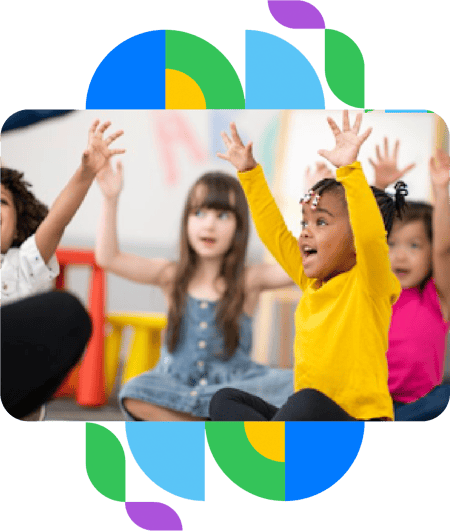 Improve classroom management.
Save your teachers time and make it easier for them to care for the children.
Digital Lesson Planning: Access all lessons, activities, and learning progress in one place.
Learning Progress: Easily track and report each child's learning progress.
Lesson Collaboration: Give educators the ability to collaborate on curriculum and enhance your program's quality.
Lesson Sharing: Automatically send daily lesson plans and activities to parents through our family calendar.
Family Communication: Make it easy for teachers to keep families in the loop with photos, calendar updates, notifications, and more.
Streamline center operations.
Centralize family and staff records in one central online location. Add more users as you scale your team at no additional cost.
Digital Centralized Records: Access student, family, and staff records online—anywhere, anytime.
Document Management: Manage immunizations, allergy records, incident reports, and more from one place.
User Permissions: Secure your center by authorizing user capabilities based on levels and titles.
Unlimited Users:

Give staff members access to LineLeader and add more users as you scale your team at no additional cost.

Custom Reporting:

Easily build custom reports and automate report emails to share findings.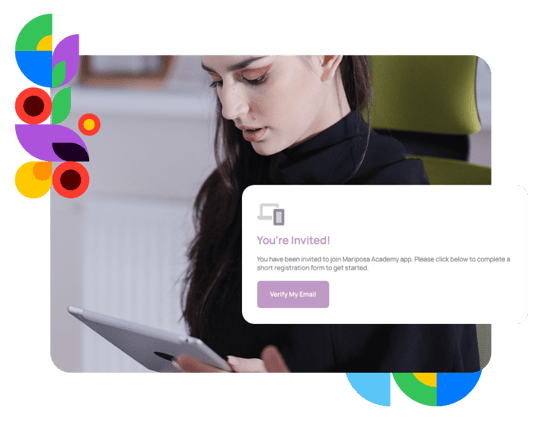 "We gathered over 110 requirements to compare all the options. We chose LineLeader because of its ability to replace existing tools, integrate with our payroll system, offer data protection, and make our business scalable and more efficient."
Ben Blake, CIO Lightbridge Academy
Frequently Asked Questions

Childcare management includes overseeing all the daily tasks that occur at your facility. This includes taking attendance, monitoring classroom ratios, sending tuition invoices, processing payments, staff time tracking, and more.

Yes, Manage is Childcare Management Software– designed to help you save time and manage your center at-a-glance, even if you can't physically be at each location.

Manage eliminates manual, repetitive tasks for you and your team. With automated billing, contactless check-in and check-out, digital ratio monitoring, online curriculum management, and automated staff time tracking - Manage gives hours back to you and your staff each week.

Manage is one module in LineLeader's unified platform. LineLeader by ChildcareCRM is the first and only unified childcare experience platform that offers a full-featured customer relationship management (CRM) software, dedicated family app, and childcare management system (CMS). Information flows seamlessly between Enroll, Engage, and Manage – allowing you to keep track of just one login, one billing cycle, and train staff on one platform.

Yes, Manage gives directors access to staff permissions and usage. Effortlessly track staff hours, monitor staff engagement with reports, and let staff collaborate with two-way messaging. Plus, build staff schedules to keep everyone in the loop.

Yes, Manage includes automated billing and invoicing. Streamline your cash flow, with less work. Additionally, batch charges to a group of families (ex: all parents with children in your Infant 1 program), practically hands-free. Apply and distribute subsidies in just a few clicks to ensure families receive proper funding.

Yes, LineLeader has a dedicated implementation team to help guide you through the process. After your team's initial training sessions, our customer success team will continue to help you get the most out of the platform through ongoing calls and webinar trainings. We also offer customer support in the app, by phone, or by email – whenever you need it.
Get started with LineLeader Manage.
Manage is part of the LineLeader unified platform giving you everything you need to enroll more students, engage families, and manage your center.