DEDICATED PARENT ENGAGEMENT APP
Boost parent engagement with LineLeader Engage.
Bring parents and teachers closer together with our parent engagement app. Save 5+ hours every week by automating daily digital reports. Improve retention with text messaging, digital newsfeed posts, notifications, and more. Set parameters for how often families can respond, according to your staff's availability.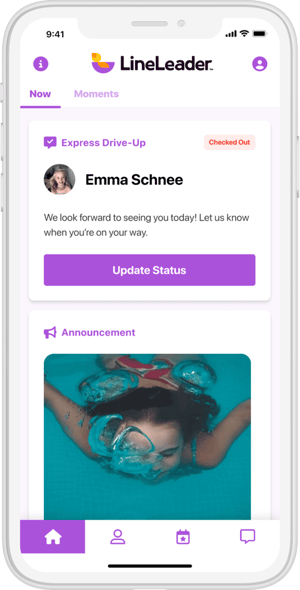 Connect with parents. Build better relationships.

Increase Retention
Provide personalized communications to families throughout their time at your center.

Improve Satisfaction
Build trust and satisfaction among parents by providing updates and keeping them connected.

Automate Daily Reports
Let parents see their child's progress and experiences at your center with automated digital daily reports.
Easily communicate with families.
Use our parent app to keep families in the loop with photos, calendar updates, notifications, and more.
Digital Newsfeed: Easily post updates to the digital newsfeed to let families reply and react.
Photo/Video Gallery: Let families view photos and videos and share these special moments with others.
Calendar: Schedule events and activities and share them with families and staff.
Unlimited Messaging: Effortlessly send messages to families through the app, at your convenience.
Notifications: Automate quick reminders or send emergency alerts to keep families updated, based on your staff's availability.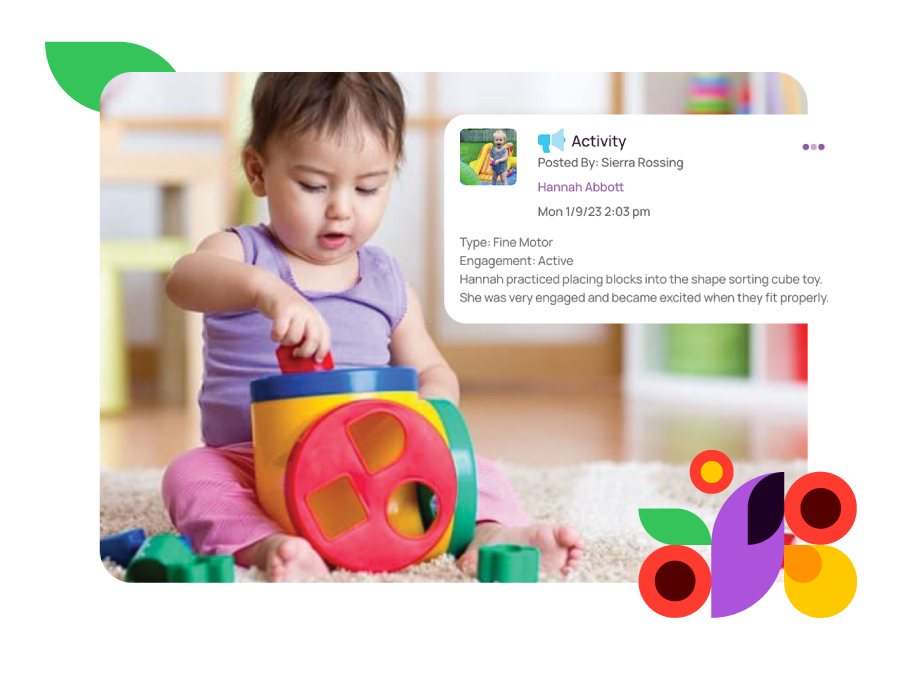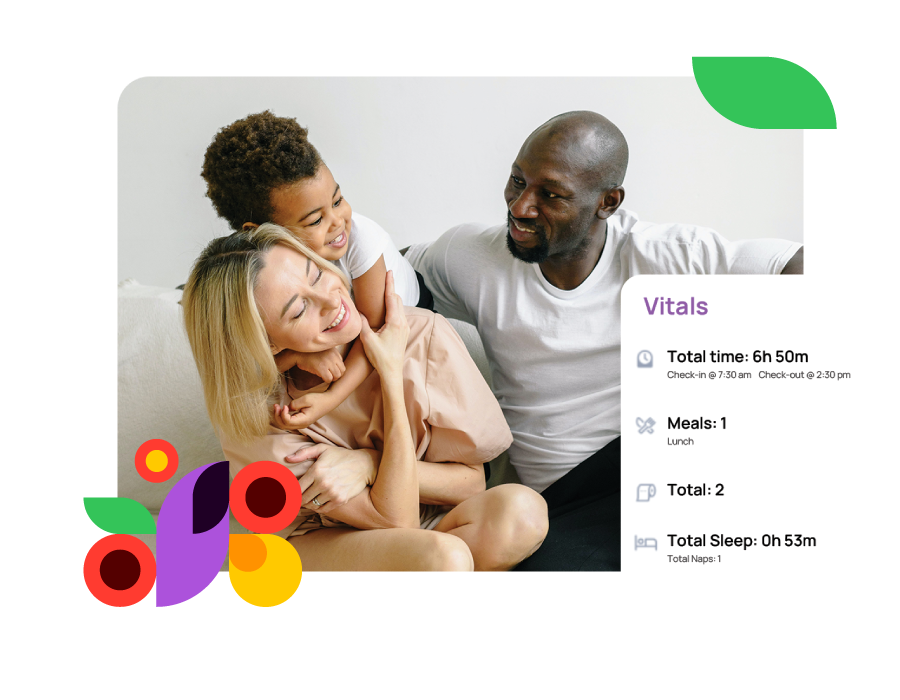 Automate daily digital reports.
Automate daily reports with activities, notes, photos, and videos for each student.
Photos and Videos: Capture learning milestones and memorable moments and share them with families.
Lesson Sharing: Share lesson plans with families so they can reinforce educational progress at home.
Food Tracking: Track each child's food items and quantities for every mealtime.
Incident Reports: Report and track mishaps throughout the day to include in daily digital reports.
Invite Others: Allow parents to invite other friends and family to share these special moments.
Empower families with self-service options.
Make it easy for parents to check students in, pay bills, and access portfolios digitally through our parent app.
Contactless Check-In: Check students and staff in and out through our parent app.
Mobile Pay and Autopay: Let families pay anywhere, anytime directly from the mobile app.
Family Portal: Give parents a central hub to manage tuition payments, track their child's development, and review menus.
Digital Portfolios: Give an individualized portrait of each child's development at your center over time.
Developmental Milestones

:

Record children's development over time, track their progress, and keep it all in one place.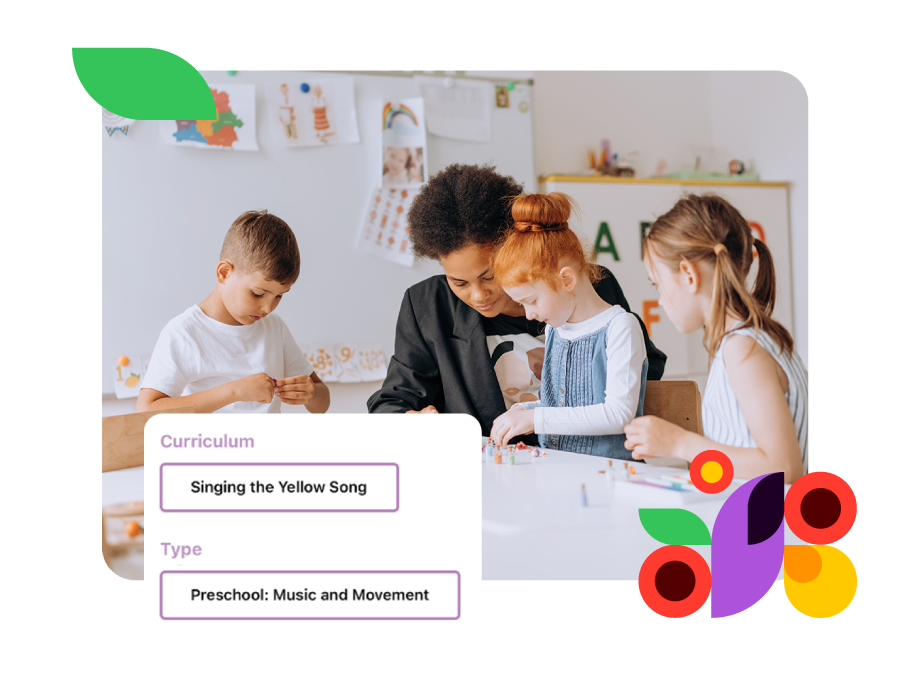 See why teachers and parents love Engage.
"Love using this as a teacher! It's intuitive and easy to learn. I love communicating with parents directly through the app."
Mbeadles20, Teacher and Parent

"Love being able to see how my child's day is going with quick and easy updates."



Emma, Parent

"So easy to use! I love that I can interact with my child's teacher."




Jamjam313, Parent

"I use this as both a parent and a teacher. I love being able to keep track of my child's day."



Vurk, Teacher and Parent

"I love that this app allows parents to get updates on their children in real-time throughout the day. I really appreciate the daily email that summarizes the child's entire day."
Growing Butterflies & Beyond Childcare
Frequently Asked Questions

Family engagement is the process of consistently communicating with families to ensure they're happy with the childcare experience provided by your center.

A family engagement app helps you streamline communication between staff and families. Whether you want to share potty-training progress, real-time photos, and videos throughout each child's day or send updates on developmental progress – keep families informed in a few clicks. Connect in real-time with two-way communication or post to a digital newsfeed that parents can look through.

Automate daily reports to send activities to families with less work than ever before. Share development milestones and memorable moments in real-time. Easily communicate with families using two-way messaging via a dedicated family engagement app. Plus, families can pay tuition bills and leave notes for staff about ETA. Staff can check students in and out, with the click of a button.

Engage helps childcare professionals maintain consistent communication with families. Provide a window into their child's day. Don't let drop-off and pick-up be the only time parents hear from you. Build relationships to engage and retain families.

Yes, and so much more! Instantly message families with two-way communication. Plus, provide real-time updates on their child's special moments and share memorable videos and photos through a digital newsfeed.
Short answer – very easy. Consistently keep families in the loop with digital updates, automated communication, and helpful announcements.
Using Engage is as easy as 1, 2, 3. Simply download the app via Google Play (androids) or the App Store (iPhones). The app is completely free for families, but they must have received an email from your center with an invitation link. Our customers typically send this once a family has finished their enrollment paperwork and paid their registration fees.
If a parent or guardian ever has questions or concerns about how to use the app, they can reach out to our support team directly.
The features Engage offers are easy to navigate. For instance, the digital newsfeed that families use to see updates of their children throughout the day looks a lot like your favorite social media platforms! Parents and guardians can simply scroll and react to pictures and videos of their children.

Engage is one module in LineLeader's unified platform. LineLeader by ChildcareCRM is the first and only unified childcare experience platform offers a full-featured customer relationship management (CRM) software, dedicated family app, and center management system (CMS). Information flows seamlessly between Enroll, Engage, and Manage – allowing you to keep track of just one login, one billing cycle, and train staff on one platform.
Get started with LineLeader Engage.
Engage is part of the LineLeader unified platform giving you everything you need to enroll more students, engage families, and manage your center.