DEDICATED FAMILY ENGAGEMENT APP
Streamline communication between families and staff with Engage.
Automate daily reports to share activities with families with less work than ever before. Share development milestones and memorable moments in real-time. Easily communicate with families via a dedicated family engagement app.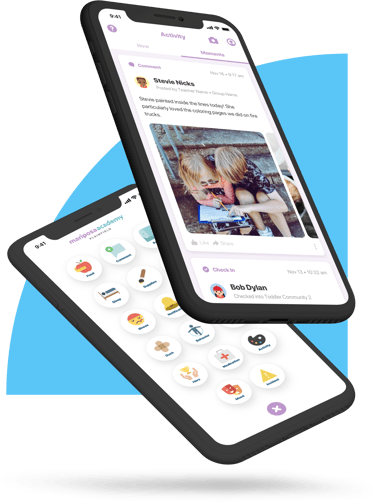 Share milestones and connect with families in real-time.
From nap time and sleep checks to tracking health issues and developmental updates, Engage helps parents stay connected to their child's experience at your center.
Share memorable moments and milestones.

Engage guardians in their children's development. Increase retention by instantly sharing milestones – from learning moments to behavioral updates.

Capture unlimited photos and videos.

Allow families to view photos and videos throughout their child's day and share these special moments with other family members and friends.

Provide daily reports for real-time insight.

Say goodbye to paper-based daily sheets with automated, summary emails.

Communicate activities through a digital newsfeed.

Provide consistent updates and share activities. Allow families to reply and react to updates to inform staff of the impact they're making.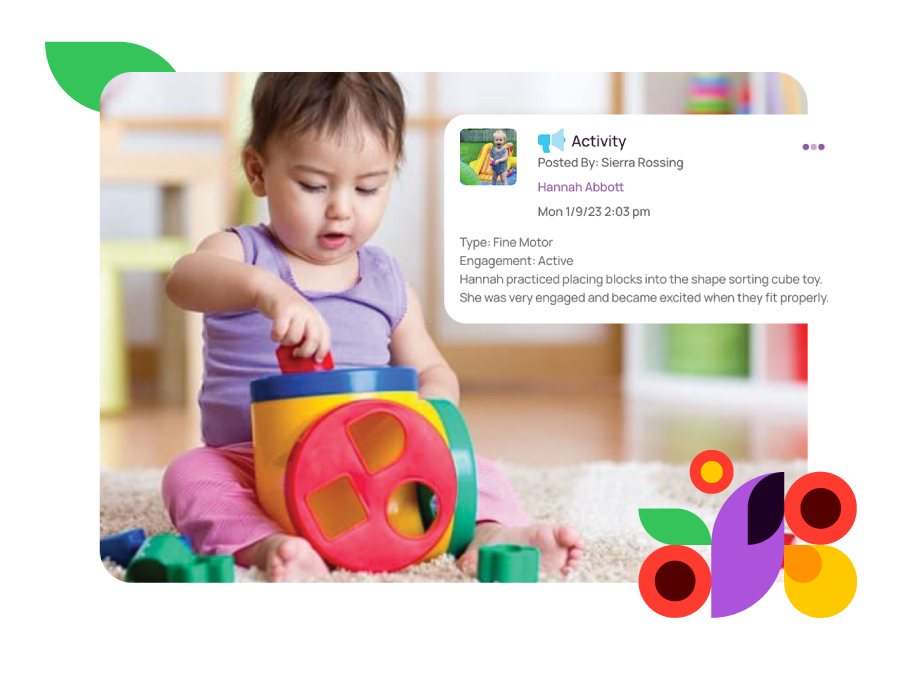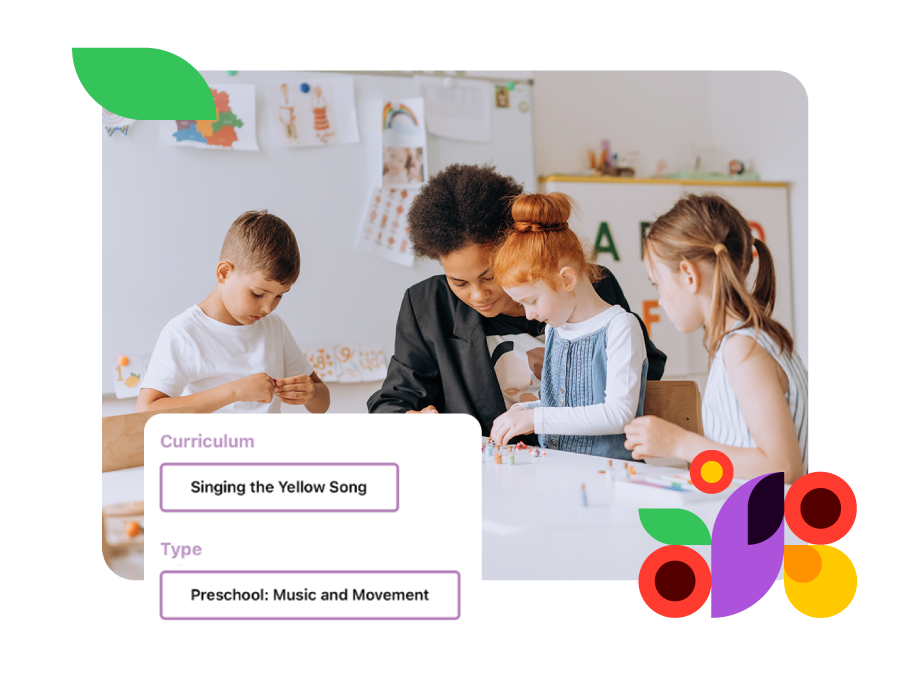 Send updates about children's curriculum and meal planning.
Keep families updated. Share curriculum plans, menus, and important information via the communication hub.
Quickly update families on curriculum plans

to engage them in every stage of their child's development

.

Optimize students' educational success.

With real-time access to their child's curriculum, guardians can reinforce teachings at home.

Share menus with families in advance.

Share menus

across classrooms

and

age groups

so parents can

plan ahead

. Plus, keep track of allergy concerns.

Maximize your food cost savings.

A

utomate USDA reporting on food costs to

ensure timely

reimbursement.




Stay informed on arrivals and departures with Express Drive-Up.
Reduce the chaos of drop-offs and pick-ups and set both families and staff up for a fantastic day. Families can instantly let center staff know their estimated time of arrival and leave notes, so staff can plan ahead with ease.
Let families check-in and out with the touch of a button.

Save time with

E

xpress

D

rive-

U

p and digital attendance

tracking

.

Allow guardians to share important notes.

F

amilies can leave pick-up or drop-off notes

for educators to ensure students are set up for success.

Give staff peace of mind.

S

taff

can see who's on their way to school

and

identify how many students are arriving at

the same time

.

Enable educators to plan ahead.

With advanced notice on attendance, staff can quickly

modify curriculum plans, meals, and schedules as needed.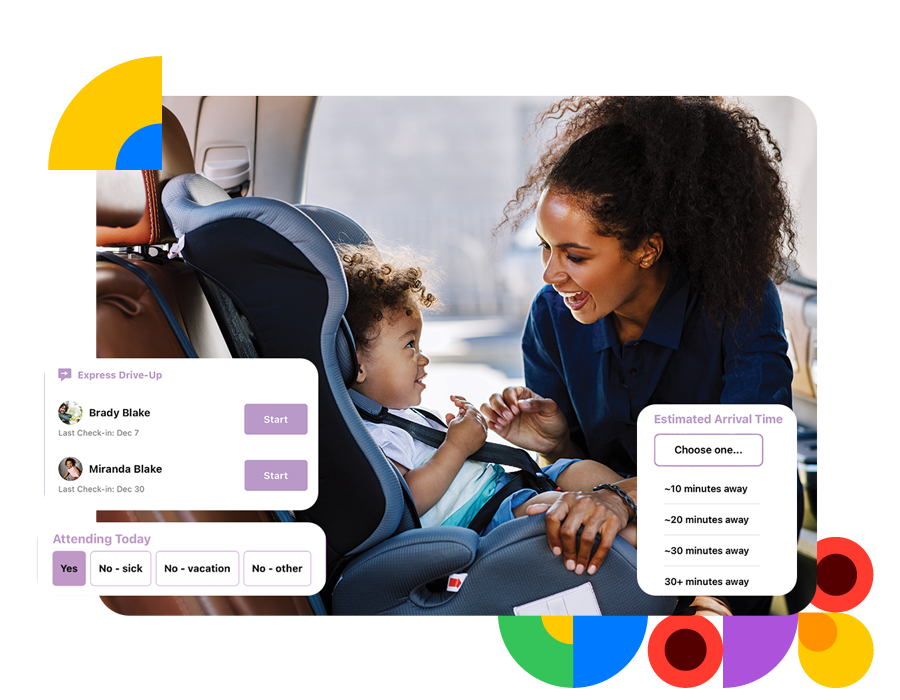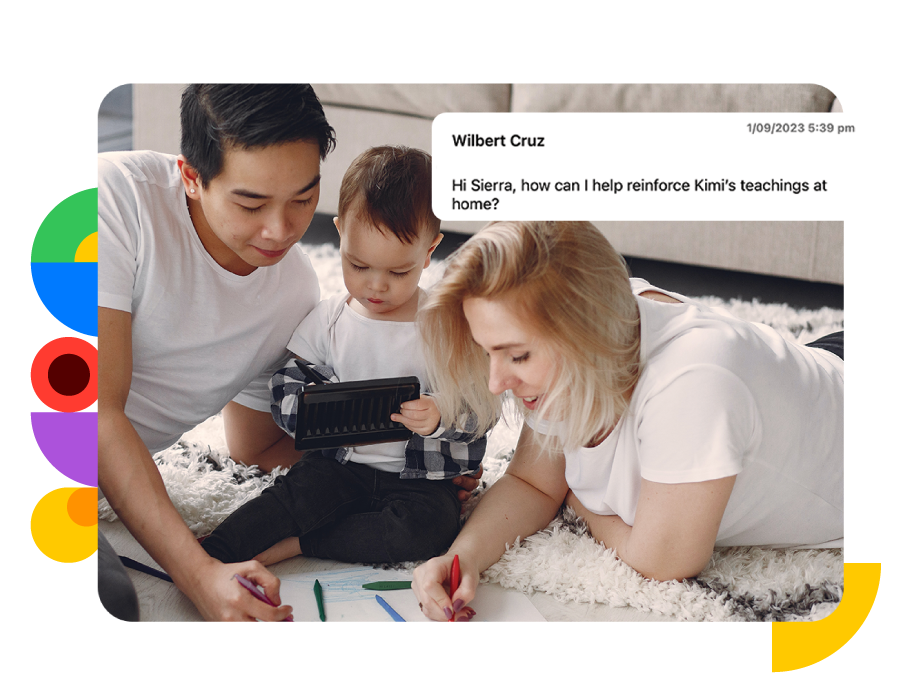 Receive real-time feedback from families.
Simplify communication and gain instant feedback that increases retention and improves your program.
Share announcements and activities in real-time. Keep families in the loop by immediately sending daily activities and announcements

that they can respond or react to.

Enable educators to visualize their impact.

Teachers can view a report each day that details how parents

are reacting

to the photos, videos, and announcements they share.

Use two-way communication

to equip families with important information.
Get started with LineLeader Engage.
Engage is part of the LineLeader unified platform giving you everything you need to enroll more students, engage families, and manage your center.