There's a better way to run your childcare business.
If you're still dealing with manual tasks, paperwork, sticky notes, and family records scattered across
half a dozen disjointed products, there's a better way. Get everything you need to market your
business, engage families, and simplify center management with one unified childcare platform.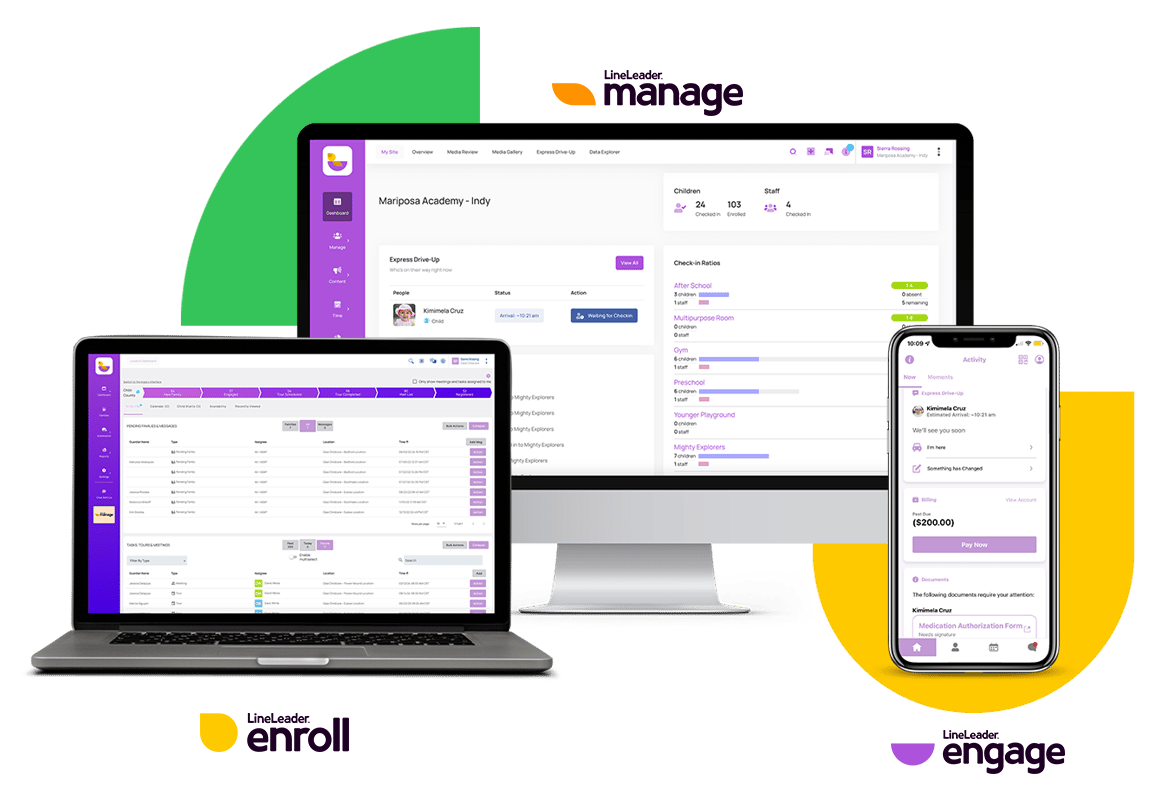 Let our all-in-one childcare software do the
heavy lifting for you.
Save
Time
Save 10 days every month by automating manual tasks from inquiry to retention.

Grow Enrollment
Increase your lead conversion rate to as much as 75% with marketing automation.

Increase Retention
Increase parent satisfaction and retention with our family engagement app.

Simplify Management
Streamline childcare operations and automate compliance reporting.

Simplify your childcare business with our
unified platform.
If your current childcare management software doesn't automate your marketing or handle online registration, it's time for an upgrade. LineLeader is the only childcare solution that combines marketing automation, parent engagement app, and CMS (childcare management software) into one platform.
Capture and manage leads, automate marketing, digitize registration, and report on performance.
Easily communicate with families and report on daily activities using our parent engagement app.
Automate time and attendance, simplify billing and payments, save staff time, and streamline center operations.
Why choose LineLeader? We're glad you asked.
One login to rule them all.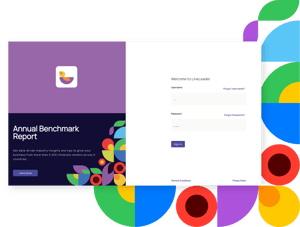 Log in once to manage leads, enroll students, engage families, and run your center. No more juggling multiple products.
One seamless experience.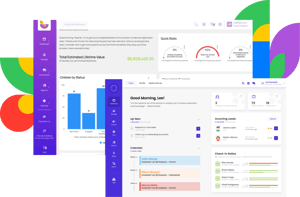 Get one consistent experience from enrollment to family engagement and center management. No more learning and managing different products.
One click to accurate data.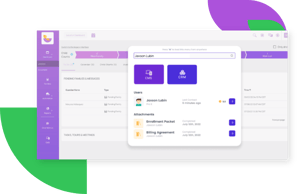 Get accurate family data in one click. Say goodbye to information that's hard to find and different from one product to the next.
See why childcare businesses recommend LineLeader.
New Horizons Academy
See how New Horizons Academy increased lead conversion rates to 40%.

Yellow Brick Road
See how Yellow Brick Road increased tour completion rates to 82%.

Tiny
Treasures
See how Tiny Treasures used tour confirmations and reminders to increase enrollment.

Lightbridge Academy
See how Lightbridge Academy saves 4 days every month with LineLeader automation.

Trusted by 0 childcare centers around the world.
Get everything you need to manage your business in one unified platform.